Auto Glass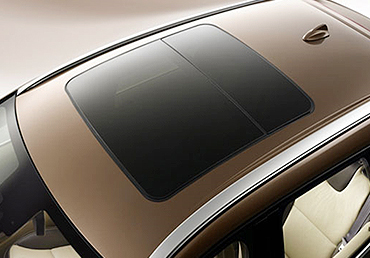 Auto Glass
Auto Glass
자동차유리 분야에서 SYP는 중국 최대의 생산자입니다. 현재 상해GM, 상해폭스바겐, 미국의 포드, 프랑스의 PSA 푸조-시트로엥, 한국의 현대자동차에 주요 공급하고 있습니다. SYP에서 생산한 차량유리 원판은 주로 MTA, MTB 등급으로 구분됩니다. MTA는 주로 차량 앞면과 뒷면에 사용하고, MTB는 차량 측면유리에 사용합니다.
PG유리의 특징

낮은 가시광선 투과성
방사열 차폐, 자외선 흡수
내부 가림효과
규격

두께: 2 - 12㎜ ( 5/64"- 7/16" )
최대크기: 3,300 × 6,500㎜ ( 130" - 256" )
최소크기: 500 × 700㎜
색상

투명 / F Green / Blue / Gray / Black
Main business
Main Vehicles
Volkswagen

Santana

Volkswagen

Gran santana

Volkswagen

Passart

Volkswagen

Lamando

Volkswagen

Tiguan L

Volkswagen

Teroment

Škoda Auto

Rapid Spaceback

Škoda Auto

Superb

Škoda Auto

Rapid

Škoda Auto

Octavia

Chevrolet

Trax

Chevrolet

New Lova

Chevrolet

New sail

Buick

Encore

CITROËN

C5

Chevrolet

RX5

MG Motor

ZS

KIA

KIA KX5

KIA

KIA K2

KIA

KIA K5
Special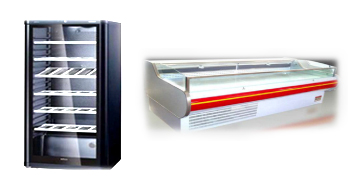 Equipment-Laminated Workshop

Tiffin Bending Furnace
High capacity: 510pcs/12h
Good thermal insulation and energy consumption saving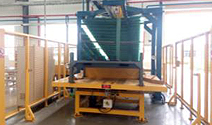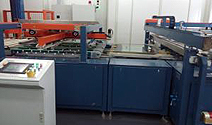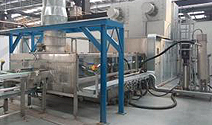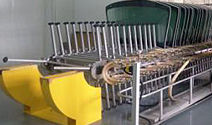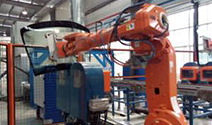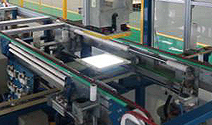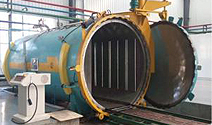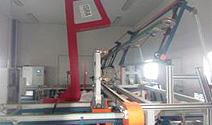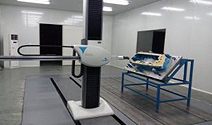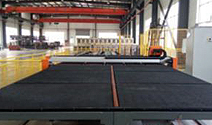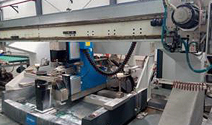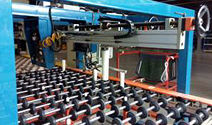 The backlite production line achieves automatic control from auto loading until resistor test for unloading during the whole process.
Equipment-Tempered Backlite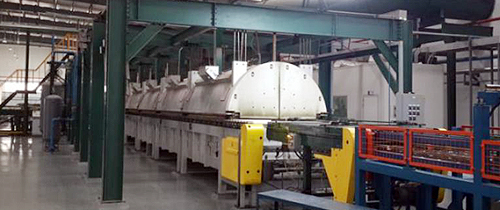 GLASSTECH Tempering Furnace
3h quick changeover with 30% efficiency increase
High capacity: max 2066pcs/12h
Advanced online test function
Annual capacity: backlite-1million pcs, door glass-2.5million pcs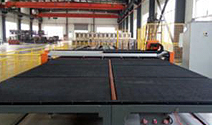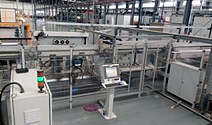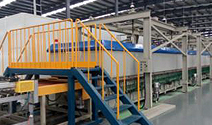 The door glass production line uses roller bendingfor forming with high efficiency and strong cost competitiveness.

Truck & Bus
Gravity bending oven for bus/truck

Bus Windshield-big size
Deep-bending windshield
2,800 × 1,900㎜
Typical cases
Automotive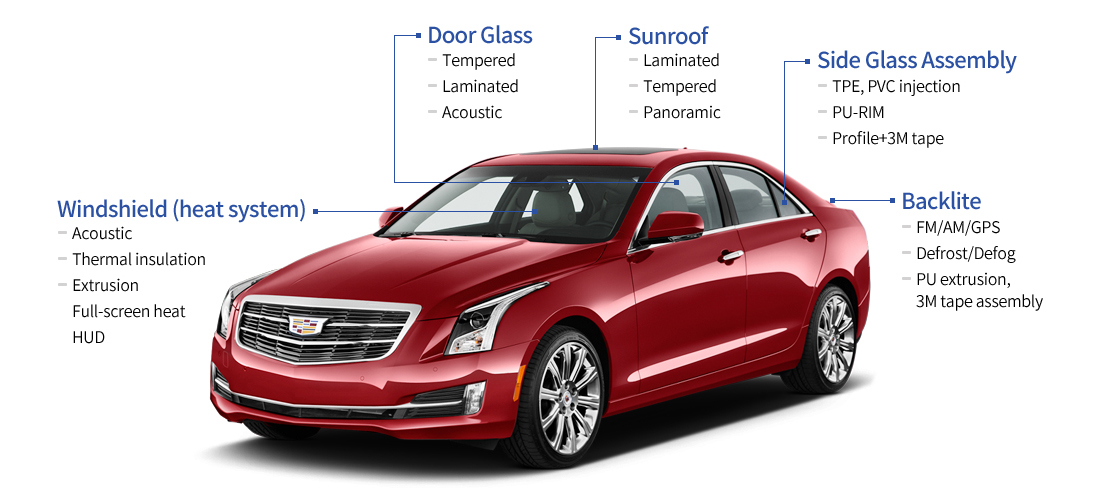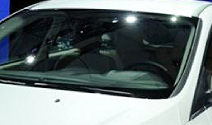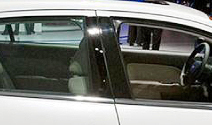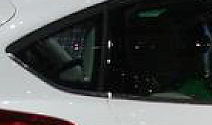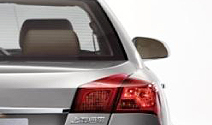 Coating IG Glass
The application of Coating glass and IG glass
Coating IG glass of SYP

Keep the same clear vision and keep interior fresh and cool
Interior Temperature is reduced by 3~7 degree Centigrade
Cooling rate of Engine can be minimized by from 30%~40%
Increase conform
Un-easy to oxidize and fade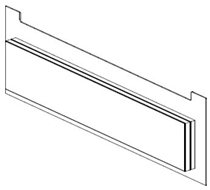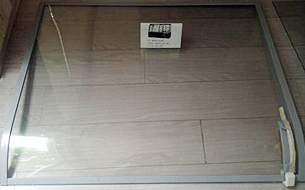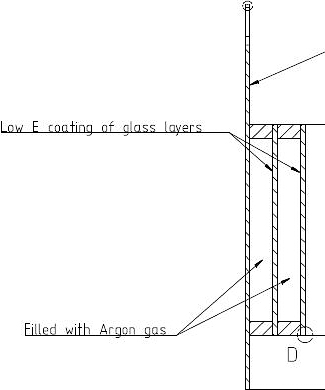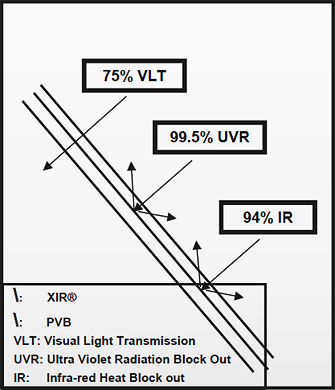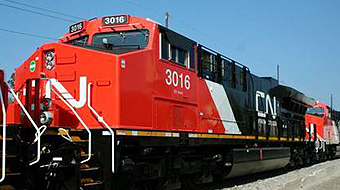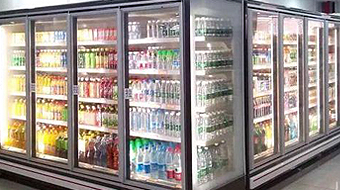 Railway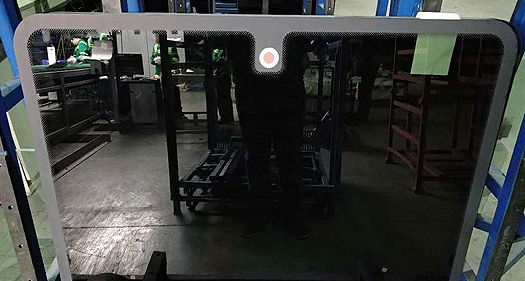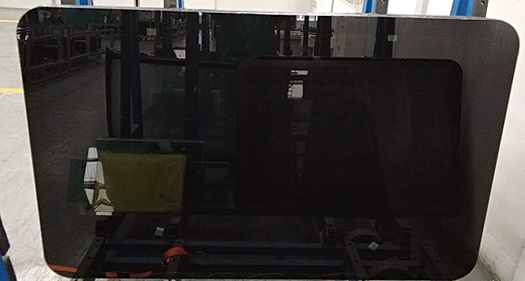 Product display
Flat glass shaped rounded corners, etc. Specifications can be provided according to customer requirements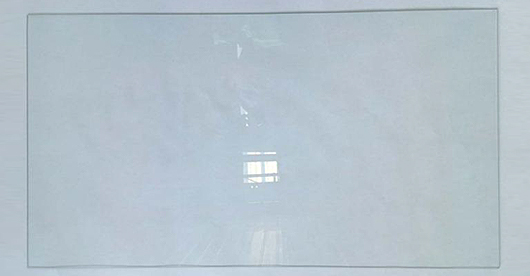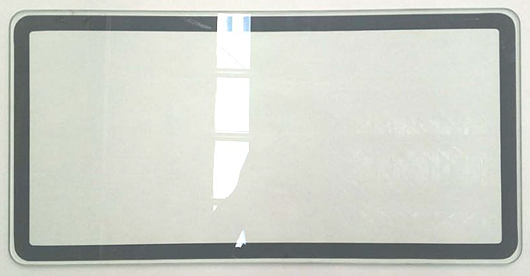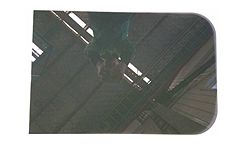 Moveable house
Moveable house & School bus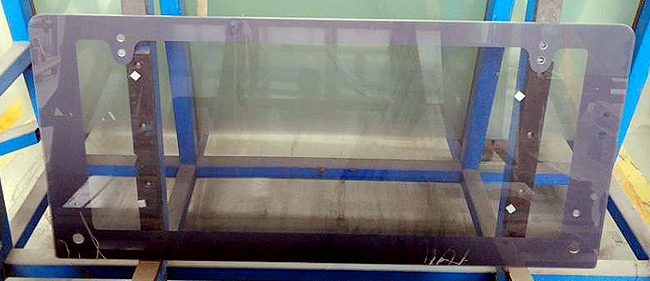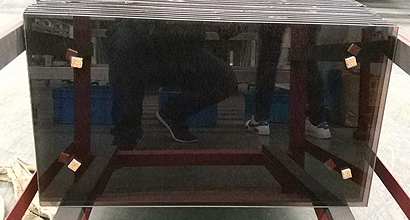 Bus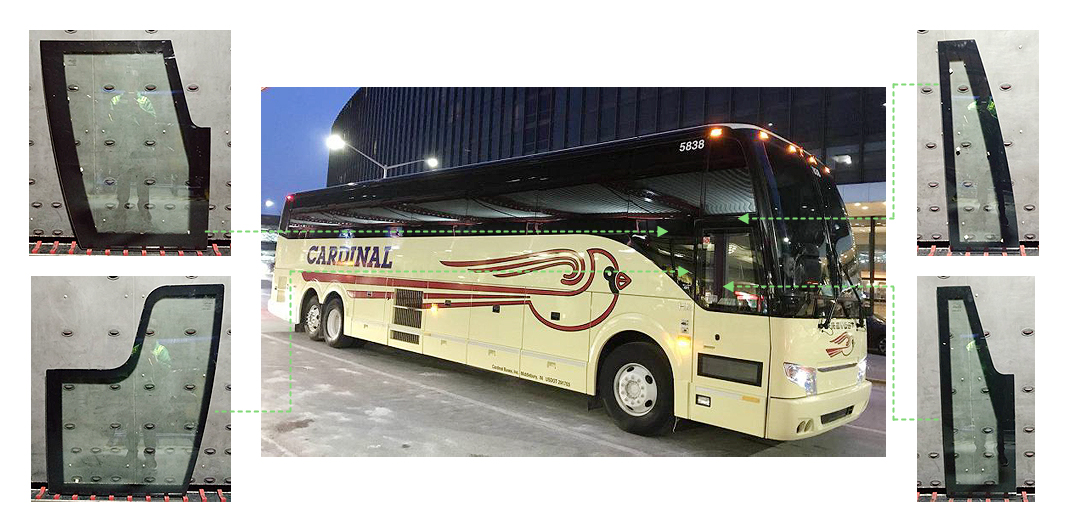 Truck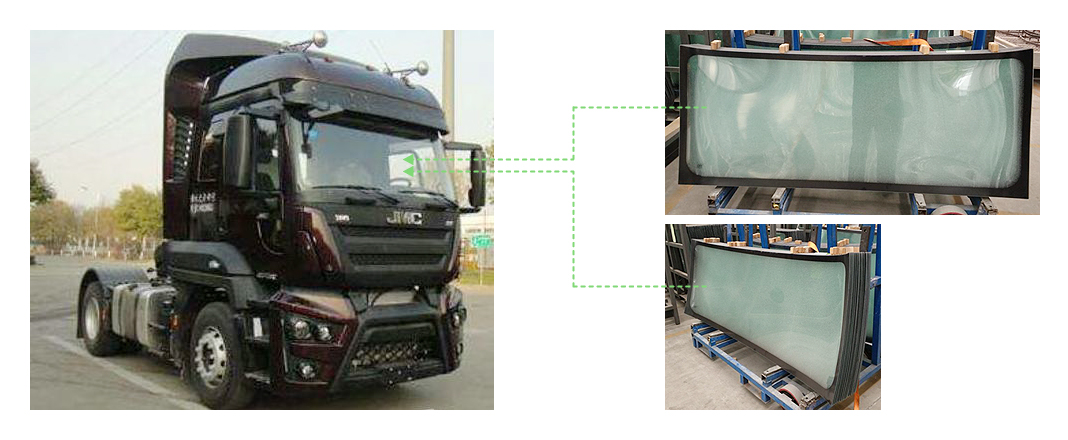 Frame Assembly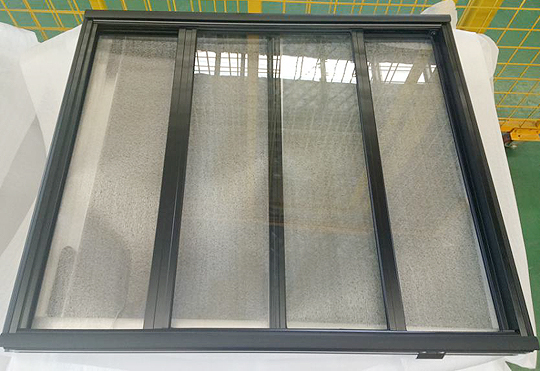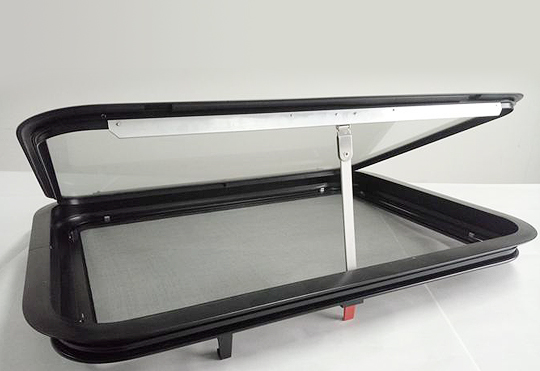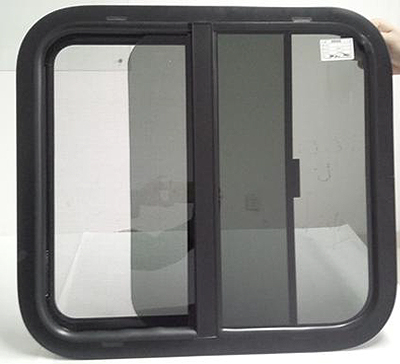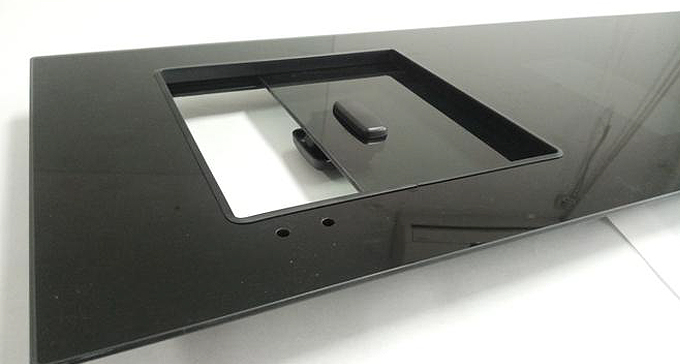 Technology
Process Design Technology
Transform from 3D to 2D

Point Cloud

Heating & Printing Line

Heating Line Simulation

By applying the electro-thermal coupling analysis, we use electricthermal conversion and heat conduction theories to simulate defrost effect for backlite in order to optimize our design.

Backlite Process Ability

Min Radius: 138㎜
Max Arch Height: 196㎜

Backlite Deep-Process Ability

First Domestic Forming Process for Eccentricity Sphere Covered with sheet medal
Quality assurance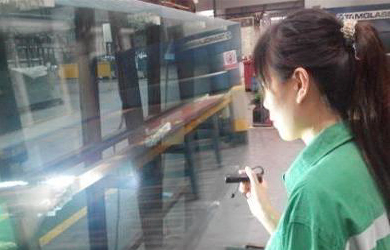 Process Control Guarantee
In order to ensure the process quality control, we use the requirements of IATF 16949 to monitor the product manufacturing process by using the management methods like VDA/QSB
Quality requirements and control plan
Process control means Tooling
Inspection equipment and error prevention
GP12
Quick response
Defect mode analysis
Certification
Quality control - Test of product size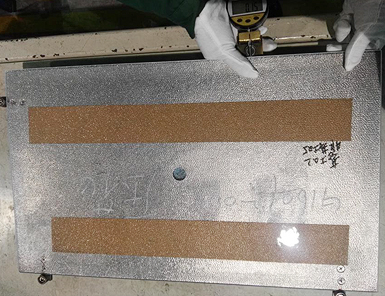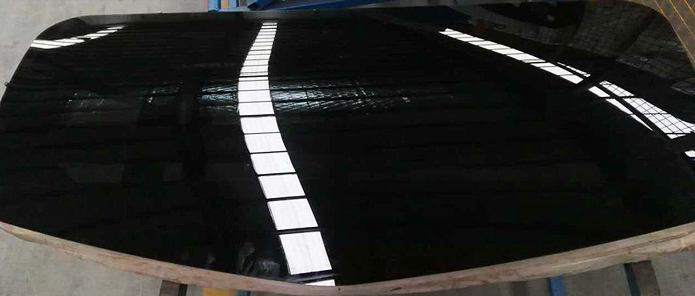 Certification
We have gained recognition from National Safety Glass Test Center and SAIC GM and perform various performance tests and type tests on our finished autoglass products. We can also conduct all test projects required by 3C, ECE, DOT and gained certification from the mentioned centers.
Management System
ISO/TS16949
Q1-2002
SGM QSB
VDA6.1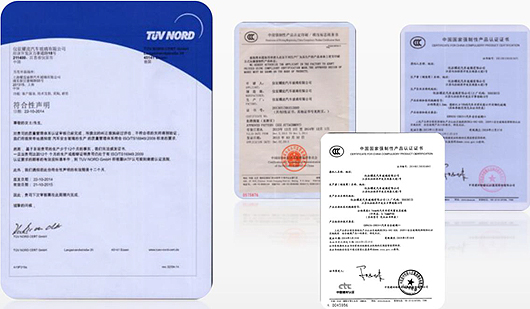 System Certificate
EU ECE R43
Australia AS2080
ANSI DOT
China GB9656 CCC